Effective solutions for builders/large trades facing with challenges in ensuring that projects meet time and financial constraints.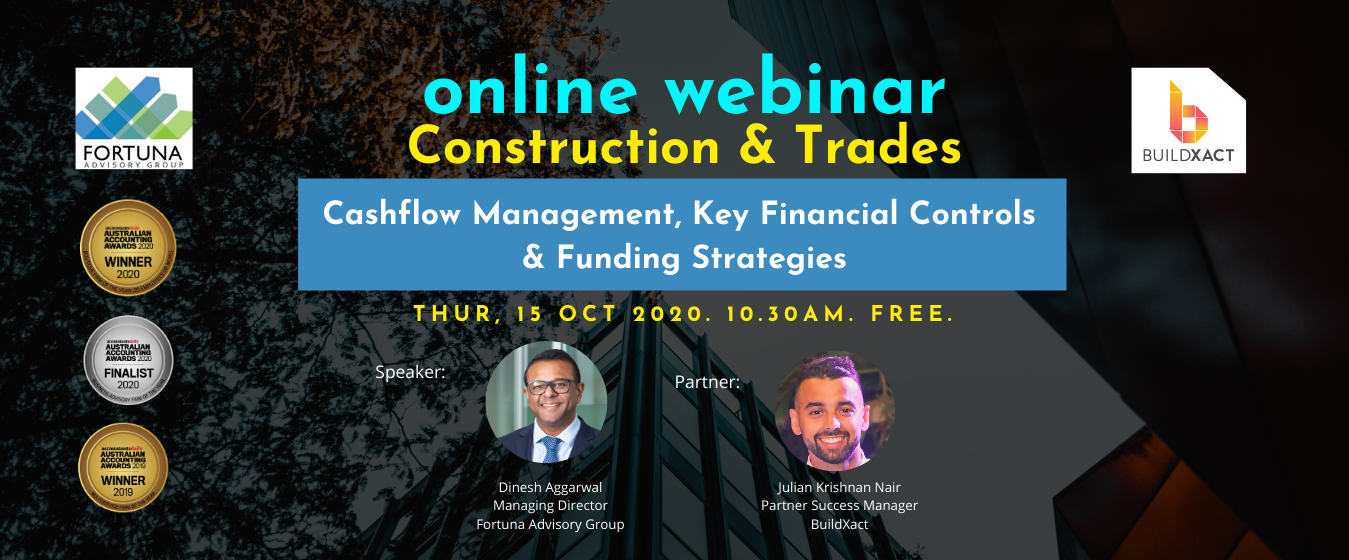 About this Event
Historically, the construction industry has been a backbone of the economy of Western Australia and the recently announced home stimulus package has been received with much enthusiasm.
However, builders and large trades are often faced with challenges in ensuring that their projects meet time and financial constraints. To do this effectively, we will address key challenges in this webinar.
Key Take-Aways:
What are some cashflow management issues pertinent in the industry?
How do you ensure that your project does not over-run on costs?
What are key financial indicators that project managers must keep a watchful eye on?
How do you put in control measures to ensure that your project is ON budget?
How can technology such as BuildXact help deliver cost controls and projections effectively for optimum job estimation and project management?
Our expert speakers will deliver a webinar that will truly change the way you manage your projects and provide great ideas and insights to help you be on budget and keep you profitable.
Our Experts include:
Dinesh Aggarwal, FCPA, CA, CMA, FTI, Managing Director, Fortuna Advisors
Honoured as one of Australia's top three SME Tax Advisers of the Year 2015 by the Tax Institute, Dinesh is also winner of the prestigious 40 Under 40 Young Business Leader 2012 and 2013 titles by CPA Australia. With about 20 years of experience in Accounting, Finance and Business Management in top corporate positions, both in Australia and overseas, he is a well-known professional, rendering advice to clients in Australia and overseas on tax matters and business services. Dinesh not only manages major international clients but also helps new clients set up businesses in Australia. Dinesh is the former Chairman of the Public Practice committee of CPA Western Australia, and is currently member of CPA Australia Public Practice Board.
Julian Krishnan Nair
As Partner Success Manager, Julian works with Buildxact's advisory and industry partners to help builders and trades streamline their business with fit-for-purpose technology. His previous experience with MYOB combined with the years at Buildxact provides him with a deep understanding of the complexities of running small businesses, and how to use technology to accelerate their business growth, and/or achieve the desired work-life balance.