FORTUNA TEAM - CONFIDENT ABOUT OUR EXPERTISE AND INTEGRITY
Building Successful Businesses for more than 2 Decades
Fortuna Advisory Group was born to create the joy that comes from seeing dreams become reality. A conglomerate of professional service providers, we believe that financial understanding and security are often keys that enable this. Our work brings people on a journey with us empowering businesses and individuals to reach their full potential, while positively impacting the lives of business owners, their teams, customers, and society itself.
Thinking Global - Starting Local
The Fortuna Foundation aims for people to come together and help those less fortunate by standing beside them through poverty and sickness; not giving up until having made a difference.
Partnering Successes to see Dreams Become Reality
Located in Perth, WA and branch office in Carnarvon, we demonstrate our beliefs by providing award-winning solutions in the areas of Accounting & Tax Advisory, Finance & Mortgage Broking, Legal Services and Wealth Management. We also believe in giving back to society through our philanthropic arm – The Fortuna Foundation.
Positive Client Satisfaction Rating
We Stay with You for life
Along with providing a one-stop solution for all commercial needs, we use our distinctive culture based on our organisational values to deliver exceptional services and ensure that you know we are in your corner throughout the ups and downs of life.
Subscribe to our Newsletter and receive updates on Fortuna events and relevant information that has an immediate impact on your business and your finances.
Find out our latest Awards and Events
Leading the Fortuna team are our experienced, practised and well-worn team of directors. Our Core team has a dual responsibility; they are responsible for ensuring the efficient achievement of our goals and ensuring that clients get the best service possible every time.
We crossed to Fortuna and were not only impressed by the professional and organised set up Fortuna had then, but 3 years later even more so. We underestimated (due to past experiences) just how diligent accountants could be, and have continued to be impressed by avenues Dinesh and the crew have looked at to help our business grow, be more efficient or become more organised.
We have already recommended Fortuna to close friends and have no hesitation in putting Dinesh forward to people asking our opinion on accountants and business advisors.
Josh Sweetman
We want to start by thanking Fortuna Accountants for all their hard work, dedication and continuous commitment towards our financial expectations, regular tax meetings and our ad hoc conversations to touch base and ensure our progress and stability. Our family always feels welcome at Fortuna. Our daughter Mercedes has grown up knowing who our accountants are and who we trust to help us with our financial decisions. We are most grateful for the assistance that the team at Fortuna have provided us, the friendly service and their commitment to providing the best financial outcomes at all times. As a result of their hard work, we have been able to enjoy yearly holidays to Europe and Asia. A big thank you
Paul and Franciska McGuinness
Standing up to the ATO: Fortuna Advisory Group wins $0.5 million tax objection
Fortuna Accountants & Business Advisors along with Fortuna Legal combined to successfully object to an amended assessment issued by the ATO which sought to impose additional tax, penalties and loss denials on a restaurant group of over $500,000.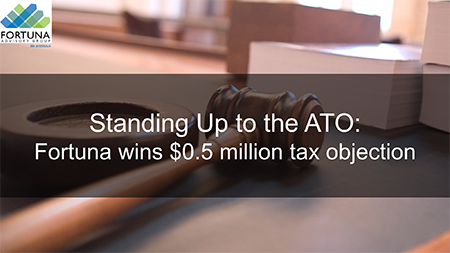 Corporate Office
Suite 1.02, 110 Erindale Road
BALCATTA WA 6021
AUSTRALIA