Harness your business' Potential
Your intelligent 24/7 reporting and forecasting tool enabling foresight for smart business decisions.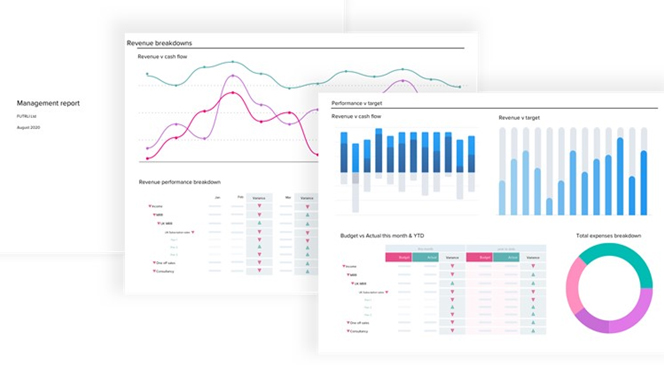 Cash flow forecasting
Forecast cash flow easily, simply and clearly
Make the right, informed decision with confidence using Fortun8's forecasting feature.

Have you ever felt helpless or powerless to the changes happening to and around your business? Fortuna understood that small businesses had to take the leap from looking at the past to focusing on the future if they were to be prepared for the rapid changes around them.

Fortun8 Forecasts allows you to Experience greater business control with daily, weekly or monthly monitoring of cash flow
KPI Dashboards
Get the full financial picture at a glance
View Fortun8's custom, shareable dashboards to empower business decision making.

As Fortuna we aimfor your reports to not just show you figures but clear indications as to what it means for your business.

With Fortun8 you have tailored dashboards focusing on business relevant KPIs and reports referencing actual, forecast, financial and non-financial data, using pre built in app templates bespoke for your business.
PDF Reporting
Beautiful printable management reports
Use flexible pre-built templates to get started quickly

Data is only valuable if it is understood and if it can be applied.

Fortun8 not only helps identify the numbers that matter, but also presents them with complete clarity. So even if numbers aren't your strong point, you are left in no doubt as to what the figures mean for you.
Budgeting
Create integrated budgets that actually work
With clear budgeting that gives certainty to every business decision

The Fortun8 team knows that it can be challenging to get the most out of your resources. Fortun8looks at budgets in a more in-depth way to show you where you need to make savings and what the results of your work are going to be.

You can now compare performance vs budget, monitor budget excess, and discover what effect your spending has on the bottom line.
Alerts
Utilize automated business monitoring for complete control
Integrated alerts that trigger the minute something changes in the business.

With Fortun8 now you can monitor key changes in your business with financial, non-financial, KPI and predictive alerts by receiving notifications in-app or offline via email.

Fortun8 alerts you when you're moving into a red zone with cash flows as it happens so you can address the issue before it gets critical.

This means now you can react!And that was simply impossible before. Your business would find out at the end of a month or quarter when it was too late, Fortun8 is your solution to this.
Scenario Modelling 'What-If''
Initiate business decisions with foresight
Model different business scenarios & clearly visualize outcomes

Have you ever wondered how the acquisition of a new client affects when you should hire next? Or what would be the impact on sales or expenses given different business scenarios?

These are questions the Fortun8 team have been working hard to answer and now with Fortun8 you can see this in seconds!

Explore base scenarios and discover numerous what-if alternativesthat we set up specifically for your business to show effects on yourP&L, Balance Sheet and Cashflow, thanks to the softwares all-in-one capability.